Sick Again… FFS
July 20th, 2012 | Posted by in
Ramble
Thats's not me.
But it's how I currently feel.
Sick again. FFS
Can't breathe through my nose despite the fact it hasn't stopped running for the past 24 hours. FFS
Desperately want a decongestant. Not currently allowed decongestants. FFS
Haven't hung out the washing that I washed yesterday. FFS
Haven't taken the washing off the line that I did last weekend. FFS
Put back the chocolate biscuits in an attempt to be healthy. Now regretting that decision. FFS
Played way too many flash games when I should have been working this week. FFS
About 4 weeks behind on writing Matthews blog posts. FFS
Months behind on a million other projects I have half done. FFS
Can't afford a house due to the ridiculous prices houses have jumped too. FFS
Matthew likes to refuse eating when I try to feed him, no problems eating if someone else feeds him though. FFS
Matthew can now open the freezer door, pantry door and take lids of bottles. This leads to cold food scattered all around the kitchen, milk spilt on the floor and child (repeatedly) eating and spitting out dry weetbix. FFS
In a general grumpy bum mood. Proving that life isn't perfect.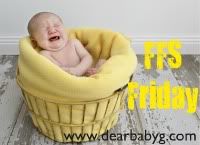 Related posts: